Award Winning DJ Services
Modern. Alternative. Professional.
| | |
| --- | --- |
| Posted on June 9, 2018 at 11:45 PM | |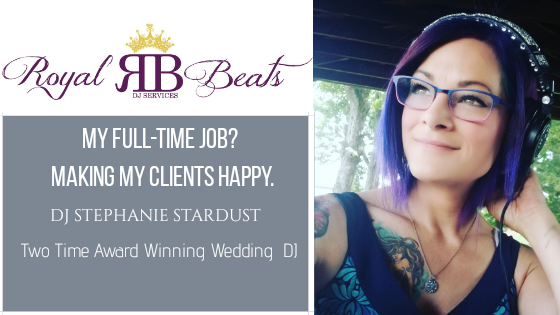 I often get asked if I have a regular job. "No, this is it, this IS my full-time job." 
 It seems that most people are surprised by my response judging from their reaction. Truth is, I have been happily self-employed for almost 10 years and at times it has been a struggle but no question it's been a blessing!
I spent 7 of  the past 9 years working as a karaoke hostess which meant many late nights at the bar. While I had a great time and made many friends and memories, working 4-5 late nights a week was exhausting. At that time I was raising an infant and was a stay at home mom during the day. When too many late nights took a toll I transitioned into a full-time event DJ focusing mainly on weddings and sweet 16s. I spent a lot of time and money learning to use new equipment and a new way to DJ. It was a great trade off. I am no longer exhausted and have the time and energy to dedicate to weddings and other special events! 
Are All DJs full-time?
Nope, there are quite a few out there but you'll find your share of part-time Djs who are working toward quitting a job to pursue this full time. Royal Beats is my livliehood. It's my main focus and the main source of my family's income. When you hire me, you hire a mom, a small business. I don't have an office so that keeps me rent free and is an expense I don't have to pass on to you as my client. I do everything myself so I do not have any employees to pay. I used to subcontract work out to other Djs, book their gigs, rent them my equipment and take a cut of the money but I no longer do that. My main focus is booking events that I DJ myself. Any work that I cannot take I refer to other reputable DJs without taking a commision. 
I try to keep my pricing fair, affordable and competitive. For my customers, I go above and beyond offering as much as I can like carrying full liability insurance, making personalized playlists, providing uplighting, fog, karaoke, multiple setups for weddings, an extensive music library, an elegant set up, updated equipment, contract, and of course, my two time award winning skills and expertise. And as a female, I offer you an alternative to the many male Djs you can already select from. Next year will mark 10 years in business.Thank you!! I am so happy and grateful everyday that THIS IS my full-time job! 
Categories: None
/